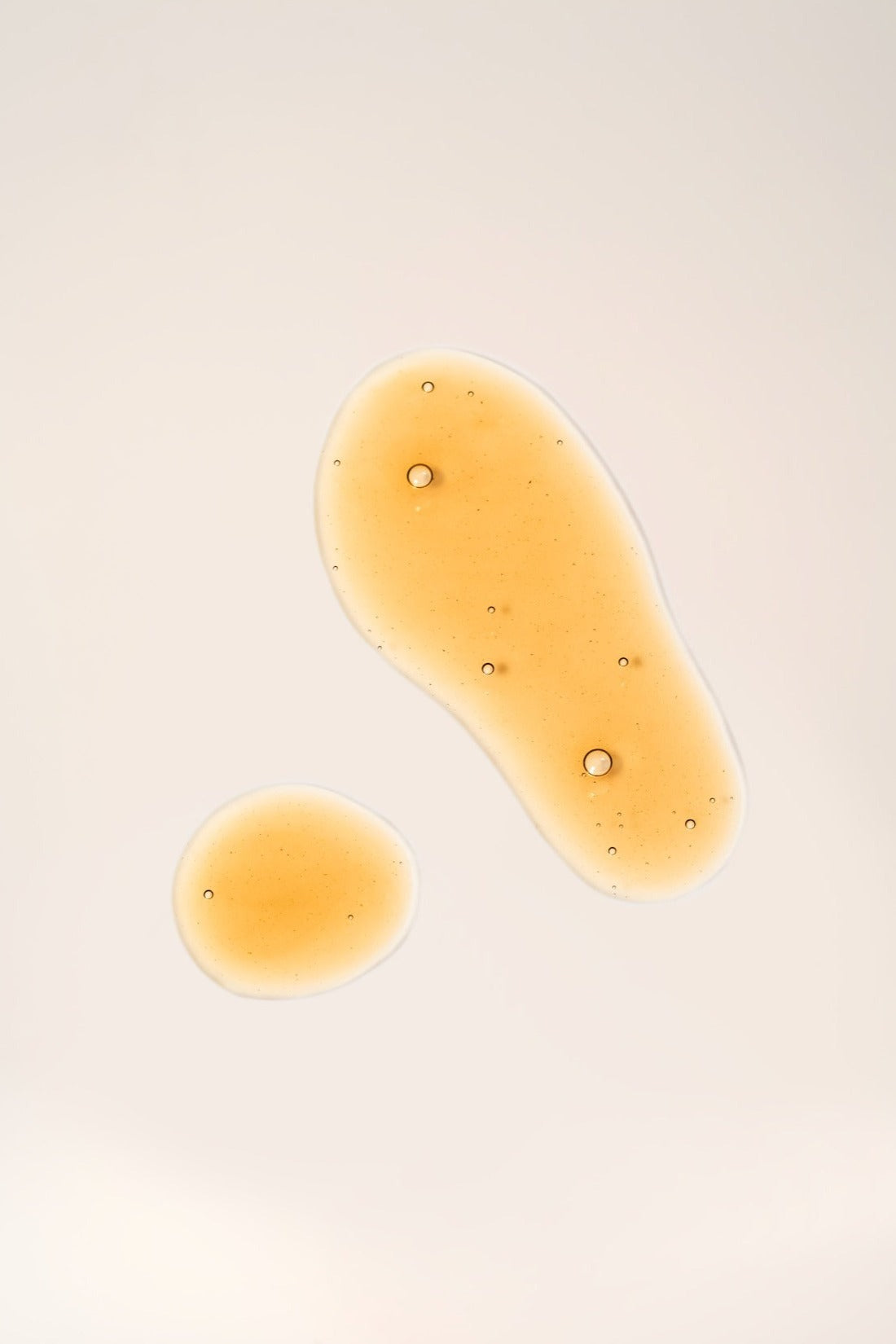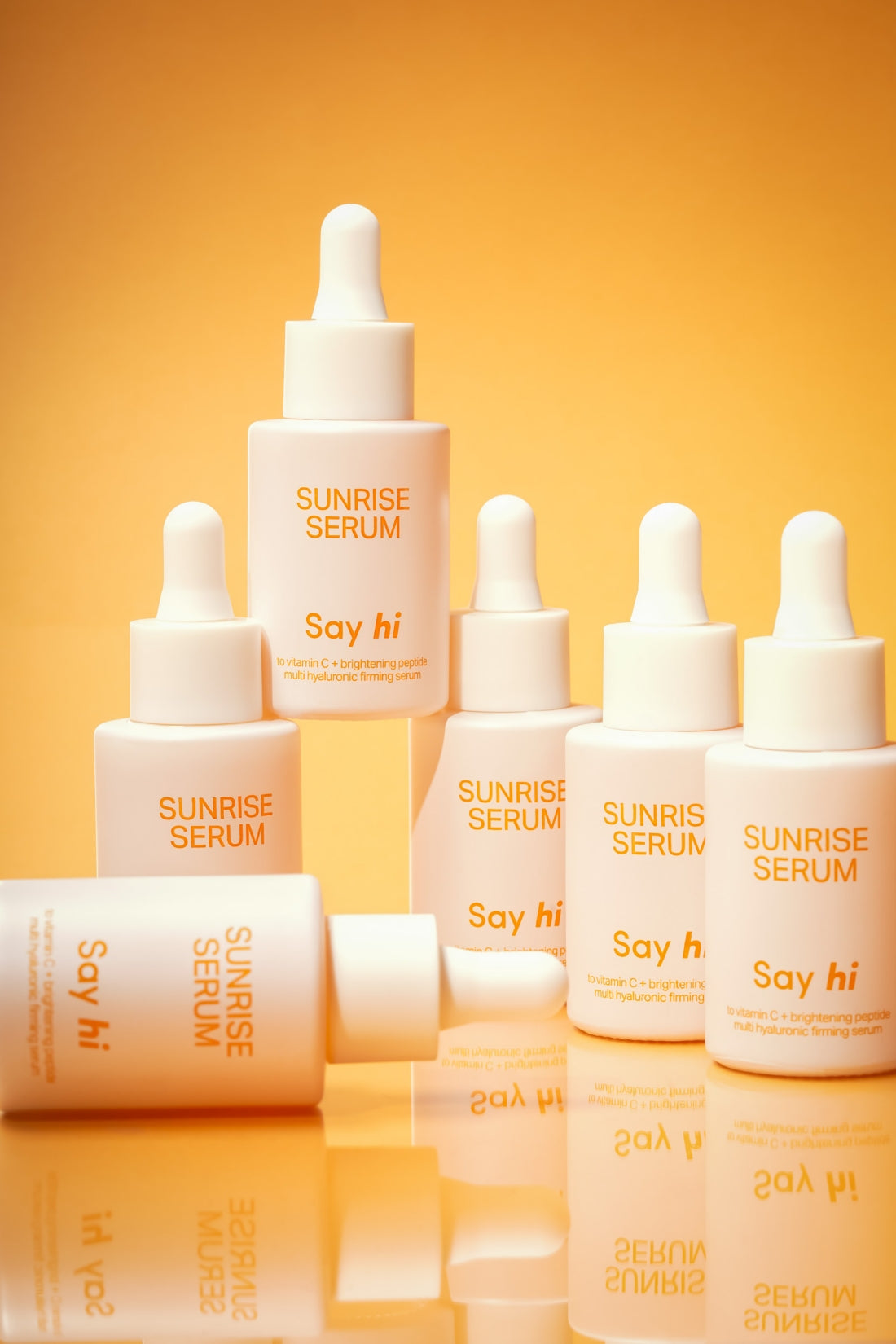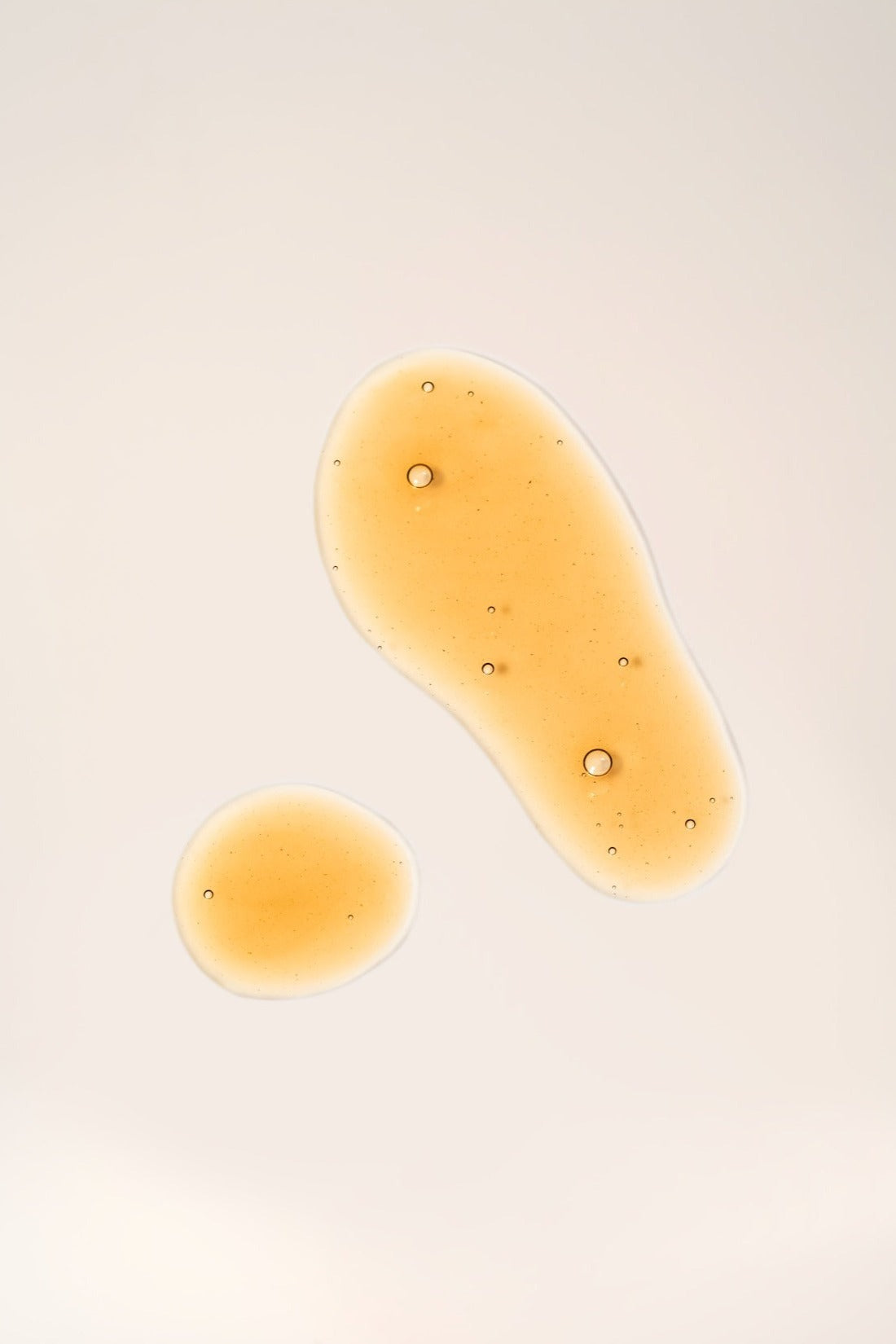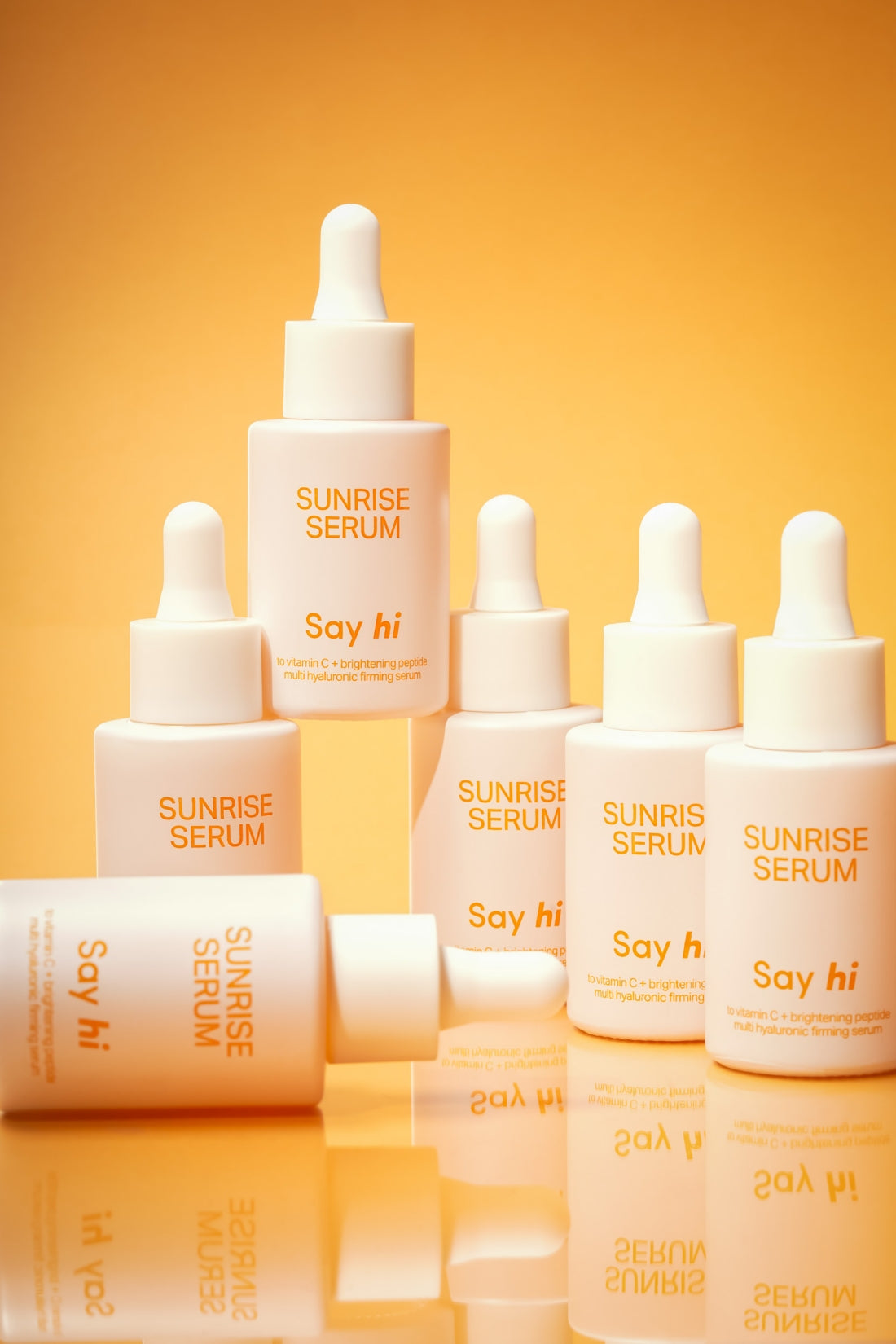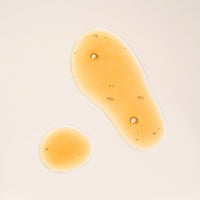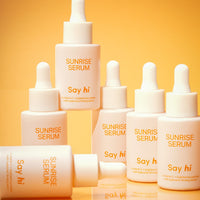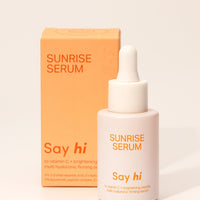 SUNRISE SERUM vitamin C + brightening peptide multi hyaluronic firming serum
159,00 zł
Value Set

• Save
Say hi to vitamin C + brightening peptide multi hyaluronic firming serum
Sunrise Serum 30ml
Benefits: next-generation skin brightening, firming and instantly hydrating serum. Its high-potency, luxurious, hyaluronic-based formula prevents premature aging and delivers an instant infusion of moisture, smoothness and radiance. All selected ingredients tp give you that lit-from-within sunrise glow!
After the single application the skin is smoother, firmer and more luminous. After 4 weeks, serum visibly brightens the skin, evens out its tone and refines its texture*. It plumps out fine lines and wrinkles, reduces imperfections, dark spots and acne marks, providing excellent antioxidant and anti-pollution protection. Your ultimate antioxidant booster for healthy-looking, radiant and bouncy skin.
*according to 100% surveyed. More in RESULTS below.
Who is it for?: Formulated for all skin types, including sensitive, allergic, and reactive skin with acne. Best for dull, lackluster skin with discolorations. Pregnancy-safe.
Formula: vegan, 92% natural, and supercharged with high concentration of active ingredients and powerful antioxidants at the same time. Based on 3 molecular forms of hyaluronic acid, the formula contains the purposefully curated mix of 5% most stable, clinical-grade 3-0 Ethyl Vitamin C, 2% brightening biomimetic peptide, 0.3% ferulic acid, acerola extract and astaxanthin. Formula doesn't include allergens, PEGs, parabens, silicones, mineral oils and any occlusive ingredients that might clog pores.
Texture: hyaluronic-based lightweight gel. Its quick-absorbing, non greasy formula leaves the skin ultra-smooth with a natural glow.
Color: the unique orange color of the serum is 100% natural and derives from astaxanthin, aquatic microalgae with antioxidant, anti-aging and anti-inflammatory properties. Color intensity may vary depending on the batch and over time. This variation does not affect the product's efficacy. Keep out of direct sunlight.
C you glowing!
Apply AM and PM. After cleansing, apply 3-5 drops and smooth over the face and neck, avoiding the eye area. Follow up with your favorite Say hi moisturizer and SPF protection. For best results, use consistently for at least four weeks.
Sunrise Serum results confirmed by consumer study*:
INSTANTLY AFTER APPLICATION
100% surveyed declares that Sunrise Serum provides the optimum level of hydration, leaving the feeling of a great comfort. Skin is soft, soothed, pleasant to touch and relaxed. 90% surveyed declare that their skin became immediately firmer, smoother and more radiant.
AFTER 4 WEEKS
100% surveyed declares that Sunrise Serum:
visibly brightens and evens out the skin tone.
gives the feeling of smoother, firmer and younger looking skin.
noticeably recovers skin's radiance and healthy look.
visibly diminishes post-acne marks.
improves the general look and condition of the complexion.
is easy to apply, quickly absorbing, and very efficacious.
90% surveyed declares that Sunrise Serum:
leaves the feeling of deeply-hydrated skin
reduces the appearance of dark spots.
prevents new discolorations.
would be their first choice to buy.
80% surveyed noticed visible reduction of fine lines and wrinkles.
*Based on a perception study conducted on 20 women aged 18-65 with all skin types for 4 weeks, controlled by a dermatologist.
Vitamin C (3-0 Ethyl Ascorbic Acid) - powerful antioxidant that helps to keep your skin in balance by neutralizing free radicals. It fades hyperpigmentation, combats dullness and brightens the skin to restore a radiant glow. It boosts collagen production, thus reducing fine lines and wrinkles. In Sunrise Serum we use 5% of the most excellent and most stable form of Vitamin C that can easily penetrate into the skin and be metabolized as ascorbic acid without causing irritation. It contains the highest concentration of ascorbic acid amongst all vitamin C derivatives (86.3%) and has the best skin penetration properties.
*Journal of Cosmetic Dermatology, Volume 11 (4) – Dec 1, 2012, Stability, transdermal penetration, and cutaneous effects of ascorbic acid and its derivatives
Neoclair PRO™ - brightening biomimetic peptide derived from green tea and hero ingredient inspired by Asian whitening skincare rituals.This powerful antioxidant significantly reduces the amount of melanin in dark spots (up to 28% in 1 week*) and their surface (up to 49% in 1 month*). It also acts as an antioxidant amplifier with antiaging and anti-inflammaging properties, repairing the damaged cell membranes caused by pollution.
*Neoclair PRO™ in-vivo test based on 20 Asian female volunteers (30-50 yo) with light & very light skin tone containing dark spots. Results: -28% of melanin reduction in 1 week and -49% of dark spots surface in 1 month measured with MexameterⓇ & Image-Pro.
Hya-act™ - Sunrise Serum formula contains high concentration of 3 molecular forms of hyaluronic acid with varying molecular weights to guarantee its high-efficacy: multi-depth hydration and visible plumping effect:
High Molecular Weight HA - (sodium hyaluronate) stays on the uppermost layers of the skin and acts as a sponge to provide immediate hydration and strengthens the skin barrier by building a superior protecting film.
Low Molecular Weight HA (sodium hyaluronate) passes through the stratum corneum and is present in the superficial layer of the epidermis. It locks in moisture for an even greater hydration boost, and calms reddened skin.
Very Low Molecular Weight HA (hydrolyzed hyaluronic acid) has particles 40 times smaller than those found in high molecular hyaluronic acid, which effectively penetrates the intercellular spaces in the deepest layers of the epidermis. There, it stimulates the production of endogenous acid by the skin, replenishing the level of hydration from the inside and in the place where deep wrinkles are formed. Additionally, it stimulates the synthesis of collagen and elastin, which improves elasticity.
All forms of hyaluronic acid are ECOCERT & COSMOS certified, 100% natural origin, derived from sweet corn seeds, GMO free, and certified as microbiome friendly.
Ferulic Acid - organic compound present in the cell walls of various plants including: tomatoes, apples or spinach. This powerful antioxidant, often called a "free radical scavenger", repairs and protects damaged skin cells against environmental pollutants and harmful UV rays (photoaging). It reduces skin inflammation, brightens discolorations, and helps treat conditions such as acne, hyperpigmentation and seborrheic dermatitis. Also, it acts as a booster and stabilizer to both vitamin C and E, so the whole formula is even more effective in fighting skin damage.
Astaxanthin - the most abundant carotenoid in marine organisms and one of the most powerful natural antioxidants on the earth. This highly concentrated, natural extract from aquatic microalgae Haematococcus pluvialis has powerful photoprotective, anti-aging and anti-inflammatory properties. It slows down collagen and transepidermal water loss, mitigates hyperpigmentation (dark spots) by suppressing melanin production, and stalls the progression of wrinkle depth. Vegan, COSMOS certified.
Acerola - extract from Barbados cherry malpighia glabra fruit that is superior in Vitamin C content. This powerful antioxidant protects against free radical damage, prevents the skin from premature aging and boosts collagen production. Also, well known for its hydrating, brightening, and skin tone evening properties.
Full ingredients list INCI: Aqua, 3-O-Ethyl Ascorbic Acid, 1,2-Hexanediol, Propanediol, Caprylyl/Capryl Glucoside, Sodium Hyaluronate, Hydrolyzed Hyaluronic Acid, Ferulic Acid, Malpighia Glabra Fruit Extract, Acetyl Tetrapeptide-2, Astaxanthin, Arginine, Ascorbic Acid , Silica, Polyglyceryl-10 Isostearate, Caprylyl Glycol, Sodium Citrate, Glycerin , Cyclodextrin, Sodium Dilauramidoglutamide Lysine, Citric Acid, Sodium Starch Octenylsuccinate, Potassium Sorbate, Sodium Benzoate, Hydroxyacetophenone, Parfum.
Sunrise Serum is available in a fully recyclable glass bottle, with glass pipette and recyclable Polypropylene (PP) ring.
Its secondary packaging (outer box) is made of FSC (Forest Stewardship Council) certificated paper, which signifies that the production of this fully recyclable paper product originated from a forest that was managed carefully with trees, animals, and local community benefit at heart. Boxes are not coated with a laminated layer not to compromise biodegradability and recyclability. Also, they are not wrapped in a foil to minimize the amount of generated plastic.
Recycling is important and we encourage you to do it in few simple steps:
After unboxing, fold the paper insert and outer box and dispose them into paper recycling bin.
Once you finish your Sunrise Serum, remove the applicator and dispose it into general bin.
Remove any excess from the bottle and dispose it into a glass recycling bin. You don't need to wash it.
Everything we do for our planet matters. We count on you to do the same!
THE POWERFUL FORMULA
SUNRISE SERUM
ultra stable vitamin C (5%) + biomimetic peptide (2%) + 3 forms of hialuronic acid + ferulic acid (0.3%) + acerola + astaxanthin
Your daily dose for BRIGHTER & FIRMER skin!
SUNRISE SERUM, a synergy of carefully selected, clinically-proven and bioavailable ingredients in supercharged concentrations to create targeted and long-lasting results for your skin.
5% 3-0-Ethyl L-Ascorbic Acid, a potent Vitamin C derivative of superior stability and antioxidant capacity, to easily penetrate the skin, and be metabolized as ascorbic acid without causing irritation.
Three molecular forms of hyaluronic acid to infuse your skin with moisture and hold it on throughout the day for a firmer, plumper looking skin with healthy glow.
2 potent antioxidants: vitamin C and ferulic acid paired together, backed up with astaxanthin and acerola extract, to help fighting skin damage and form the protective shield against external aggressors and pollutants.
2% biomimetic brightening peptideto inhibit the action of tyrosinase enzyme, thus decreasing melanin in dark spots and targeting better post-acne marks and discoloration. Together with vitamin C, this antioxidant amplifier visibly brightens complexion, fades uneven skin tone and brings dull skin back to life.
C you glowing!
How long does it take for SUNRISE SERUM to work?
Firms, brightens, boosts elasticity and rejuvenates the complexion, providing the effective protection against external aggressors and pollutants. Extraordinary results of SUNRISE SEERUM are confirmed by independent consumer study*.
100% agree that serum:
visibly rejuvenates and improves skin texture
delivers bouncier skin, boosts elasticity and hydration
visibly brightens and evens out skin tone
reduces the appearance of post-acne marks
recovers skin radiance
90% agree that serum:
delivers smoother, firmer skin with a healthy glow
visibly fades dark spots
prevents new discolorations
80% agree that serum:
visibly reduces fine lines and wrinkles.
* 4-week independent consumer study of 20 women, ages 23-68 with all skin types, including sensitive, controlled by dermatologist.
Skincare Superhero
VITAMIN C
A glowing face with an even tone and supple skin is a dream for all. Who doesn't want a magic potion that can work miracles, even for a sensitive skin? Meet the potent, next-generation vitamin C derivative used in our Sunrise Serum!
3-0-Ethyl L-Ascorbic Acid has it all: superior stability together with the best antioxidant and collagen production capacity. It contains the highest concentration of ascorbic acid amongst all Vitamin C derivatives (86.3%) and shows the best skin penetration results. Its efficacy is enhanced by a deeper and rapid absorption into the skin, which is why it yields the best outcome. 3-0-Ethyl is metabolized as pure Vitamin C, thus retains all its clinically-proven benefits:
Powerful and nourishing antioxidative properties to help your skin neutralize free radicals and decrease cell damage caused by pollution and environmental stressors, eventually leading to skin dullness, wrinkles or even cancer.
Combats dullness and brightens skin tone to reveal a radiant and healthy glow.
Fades hyperpigmentation by inhibiting the action of the enzyme tyrosinase. It decreases melanin formation to visibly reduce post-acne marks and photomelanosis.
Anti-aging wonder: 3-O-Ethyl L-Ascorbic Acid has exceptional collagen-boosting properties. It increases collagen production in the skin thus reducing fine lines and wrinkles. As we age, collagen production in the skin decreases and so does the Vitamin C reserve. Vitamin C works as a necessary cofactor for building collagen, without which the synthesis stops. The wonderful molecule regenerates and rejuvenates the skin.