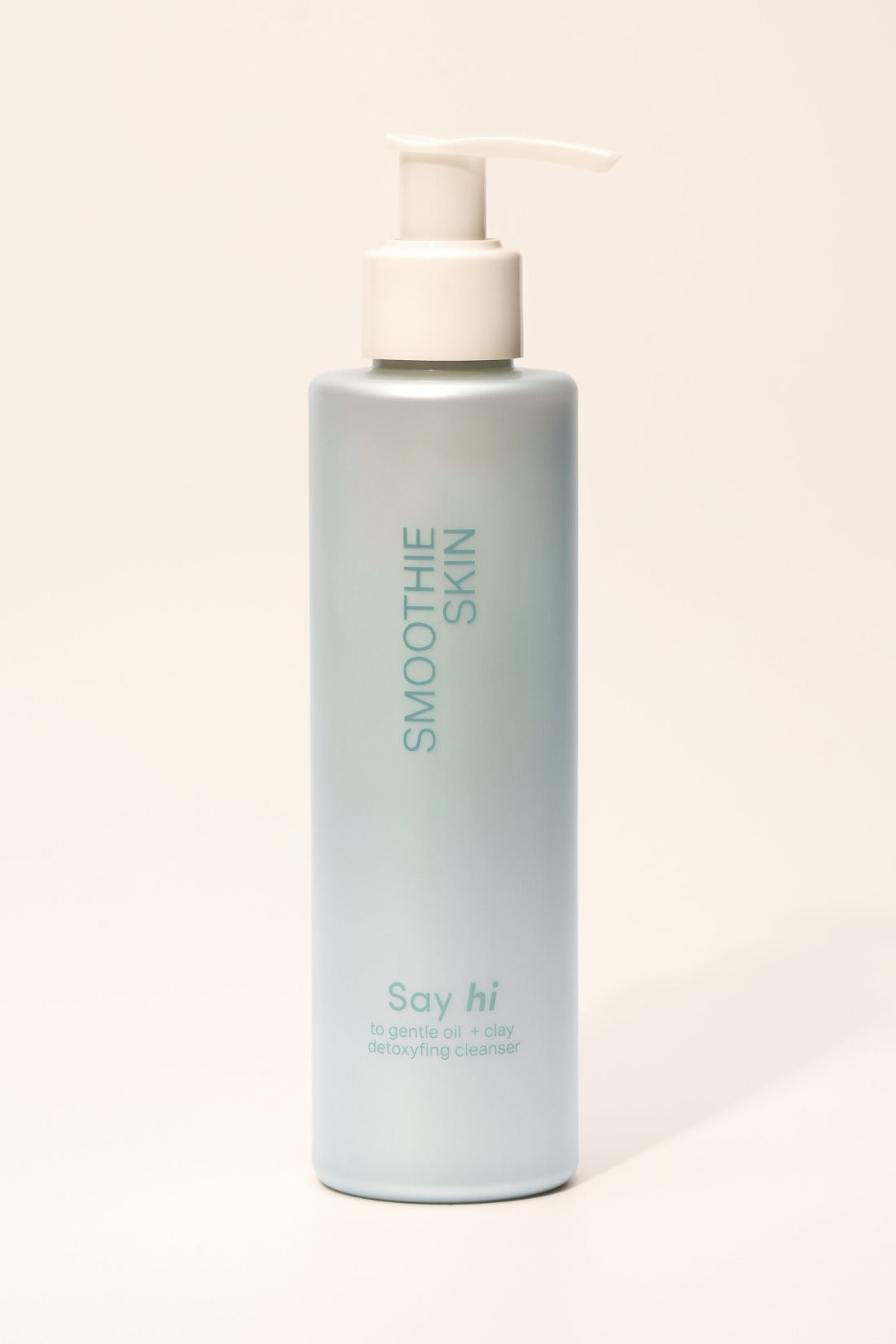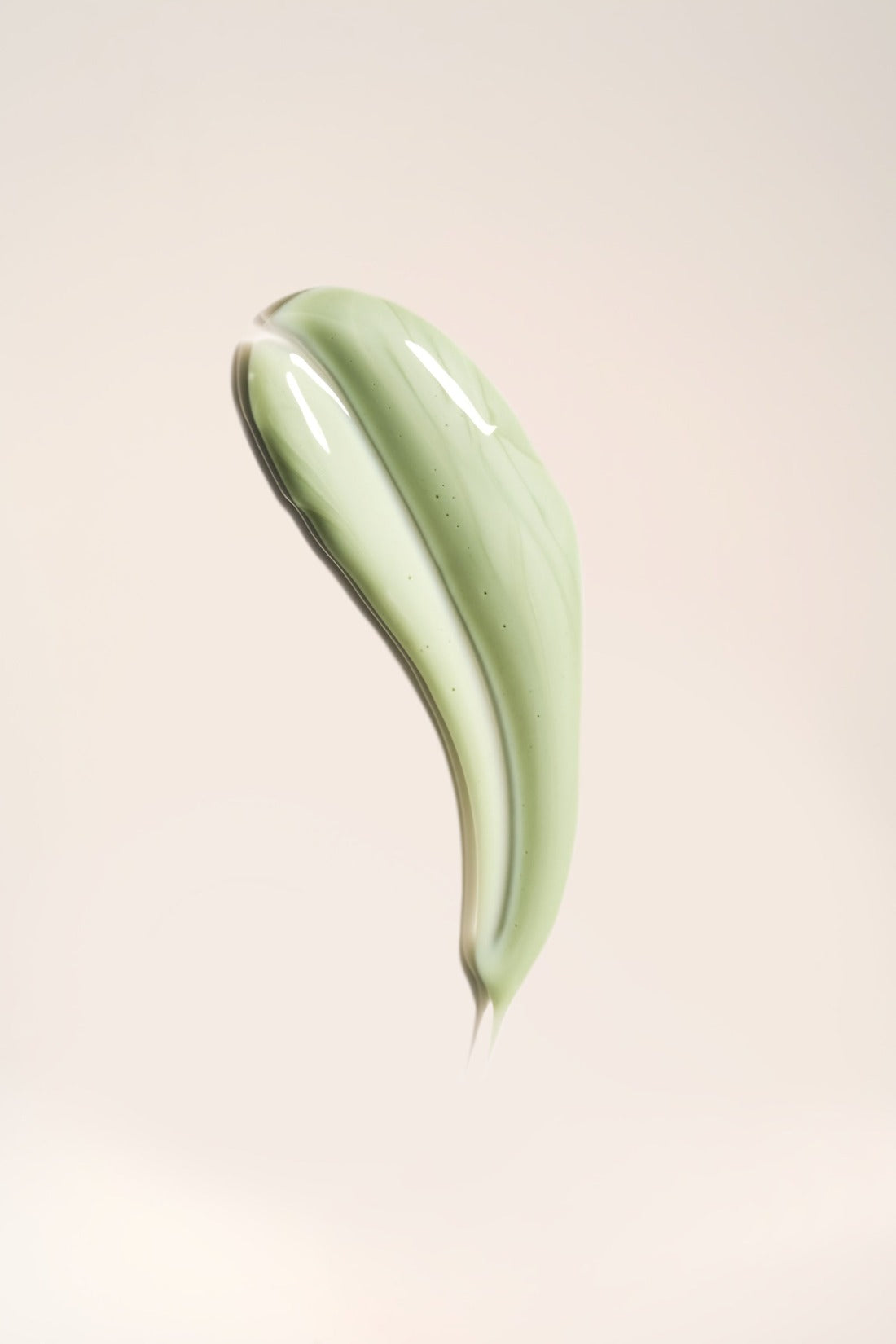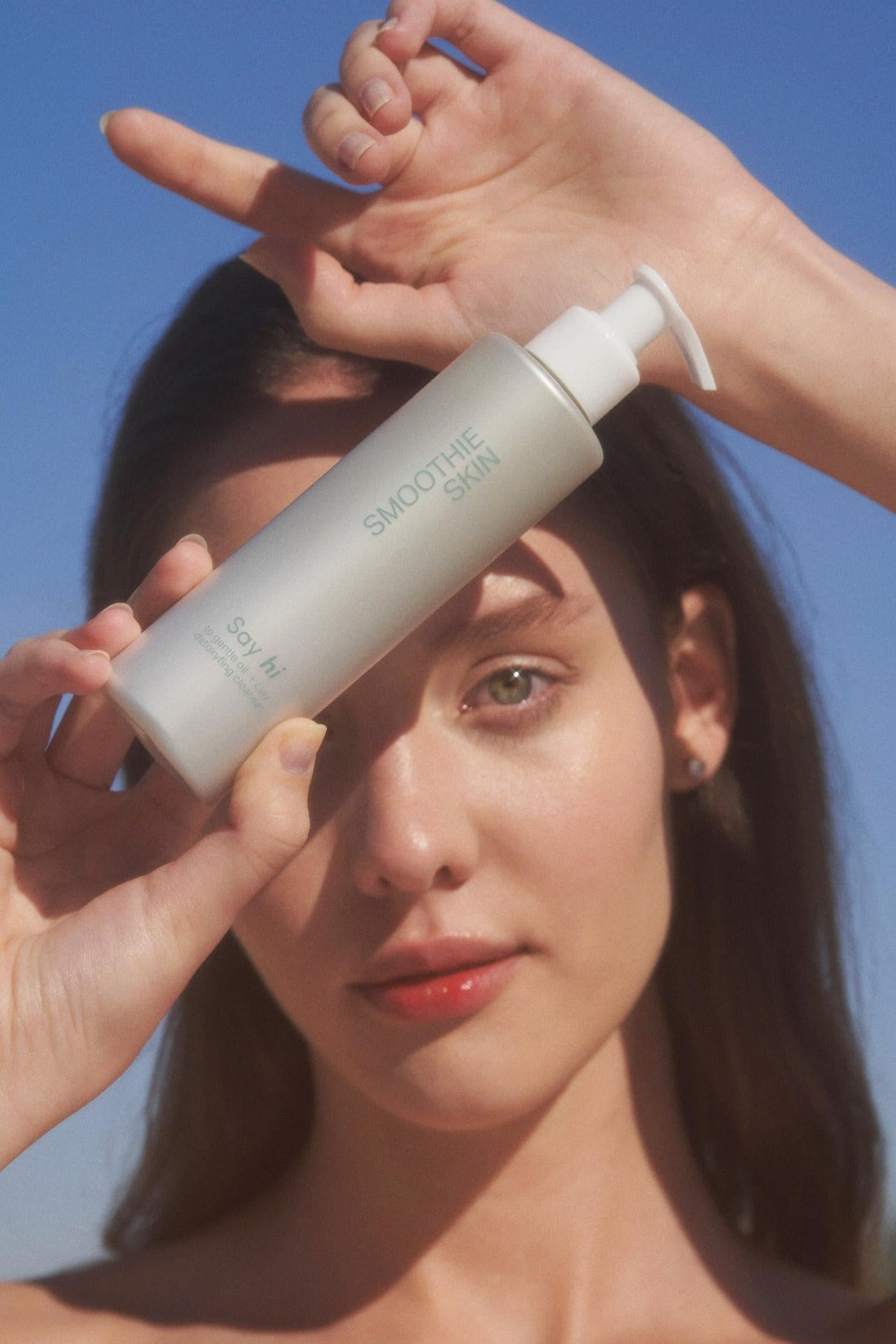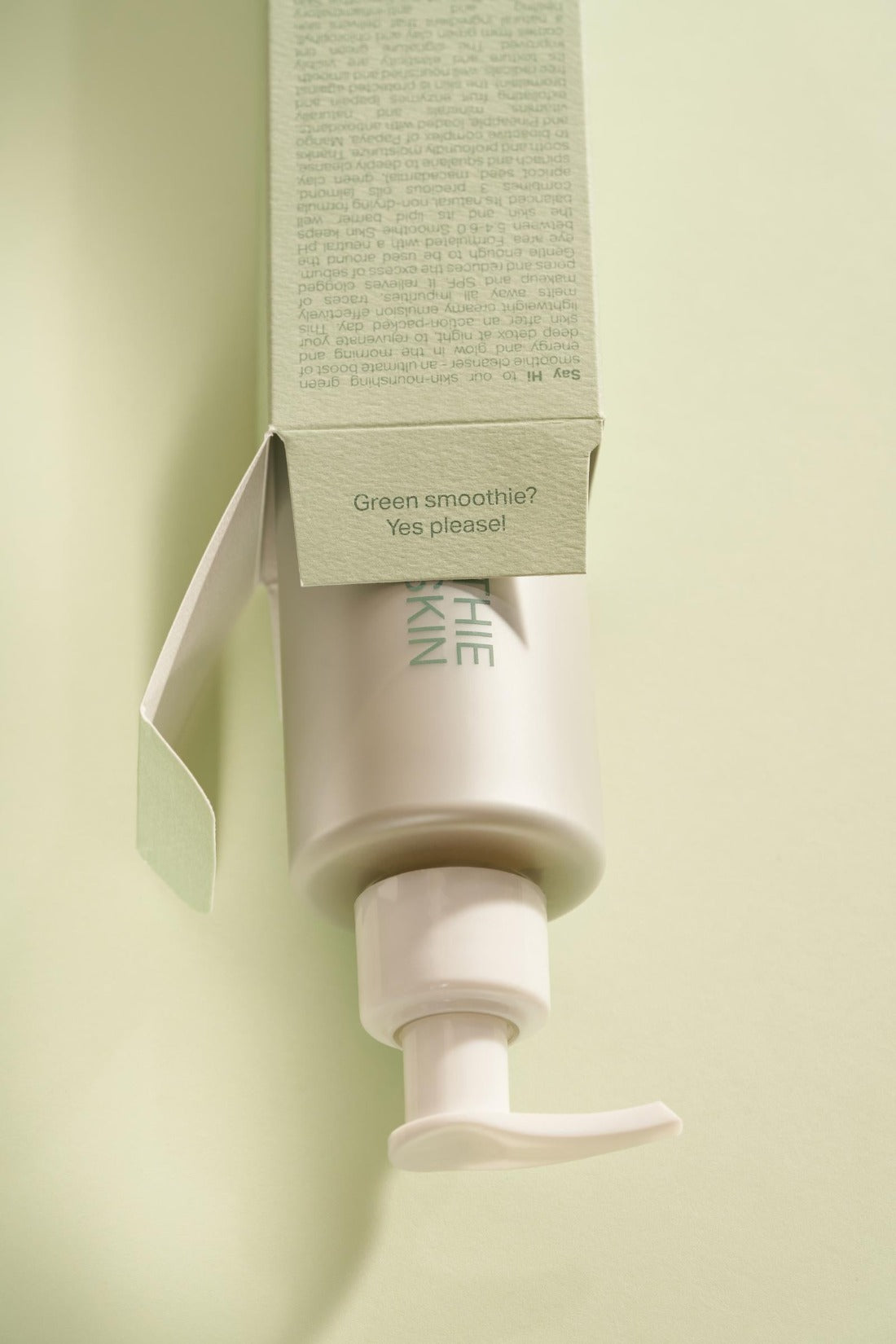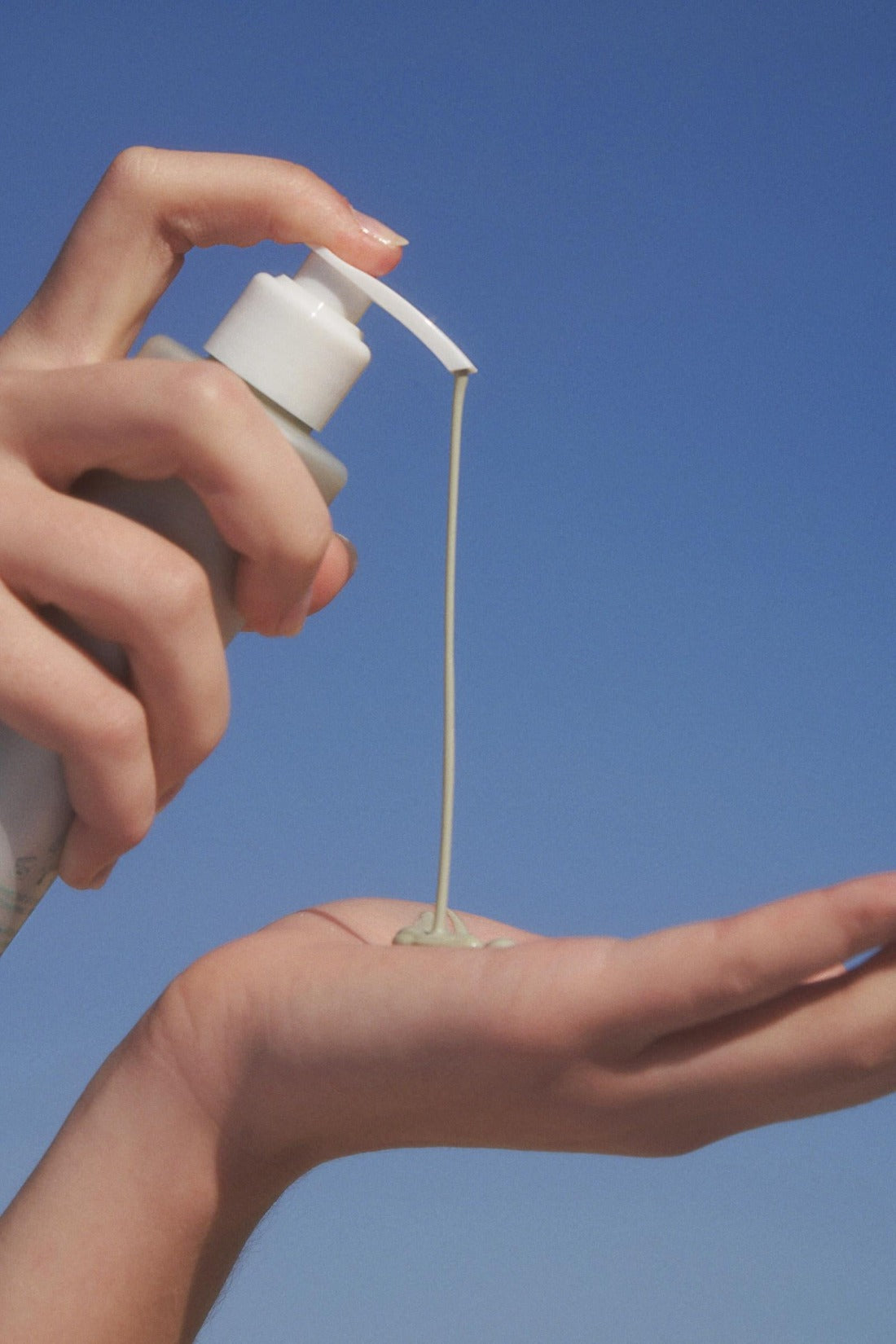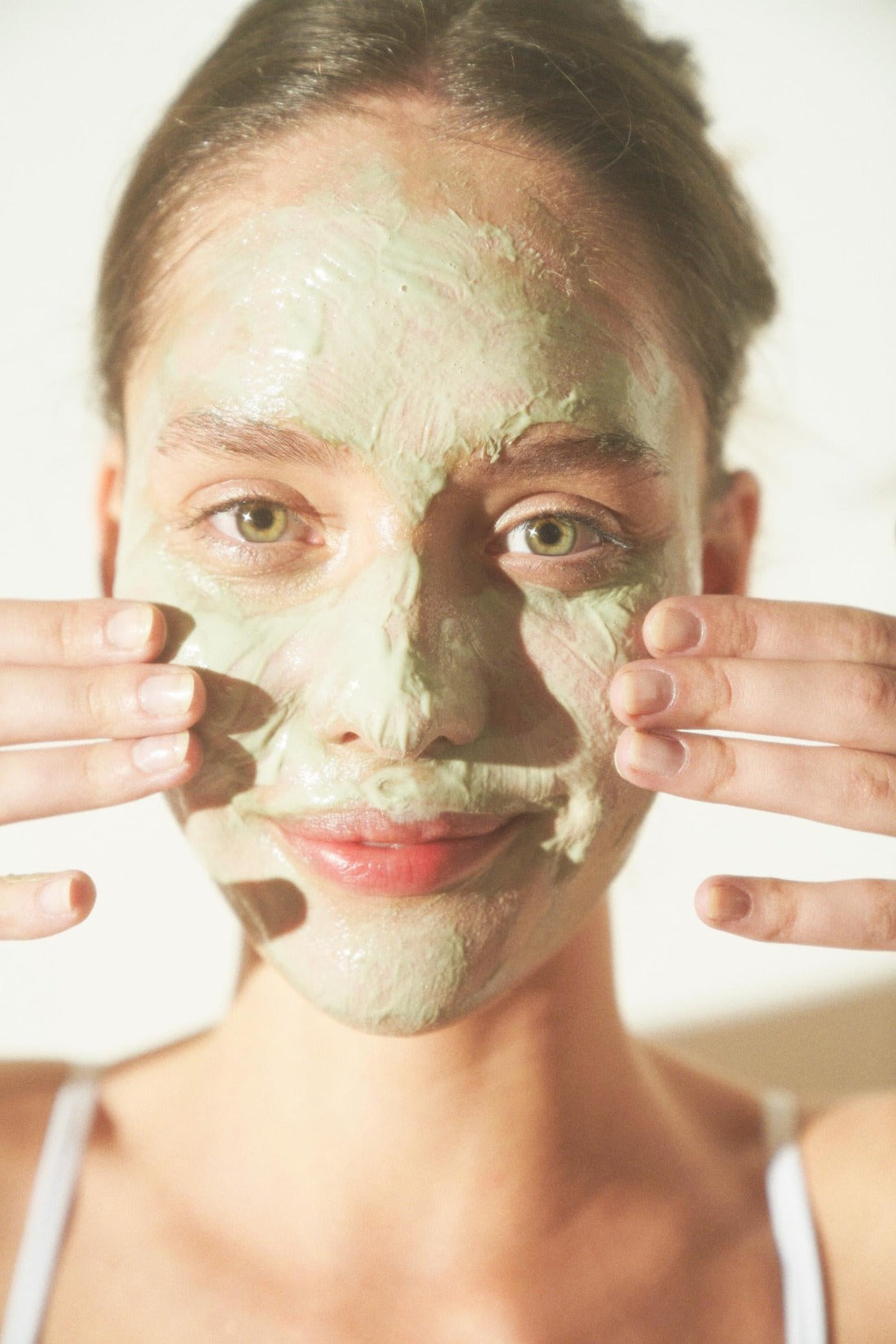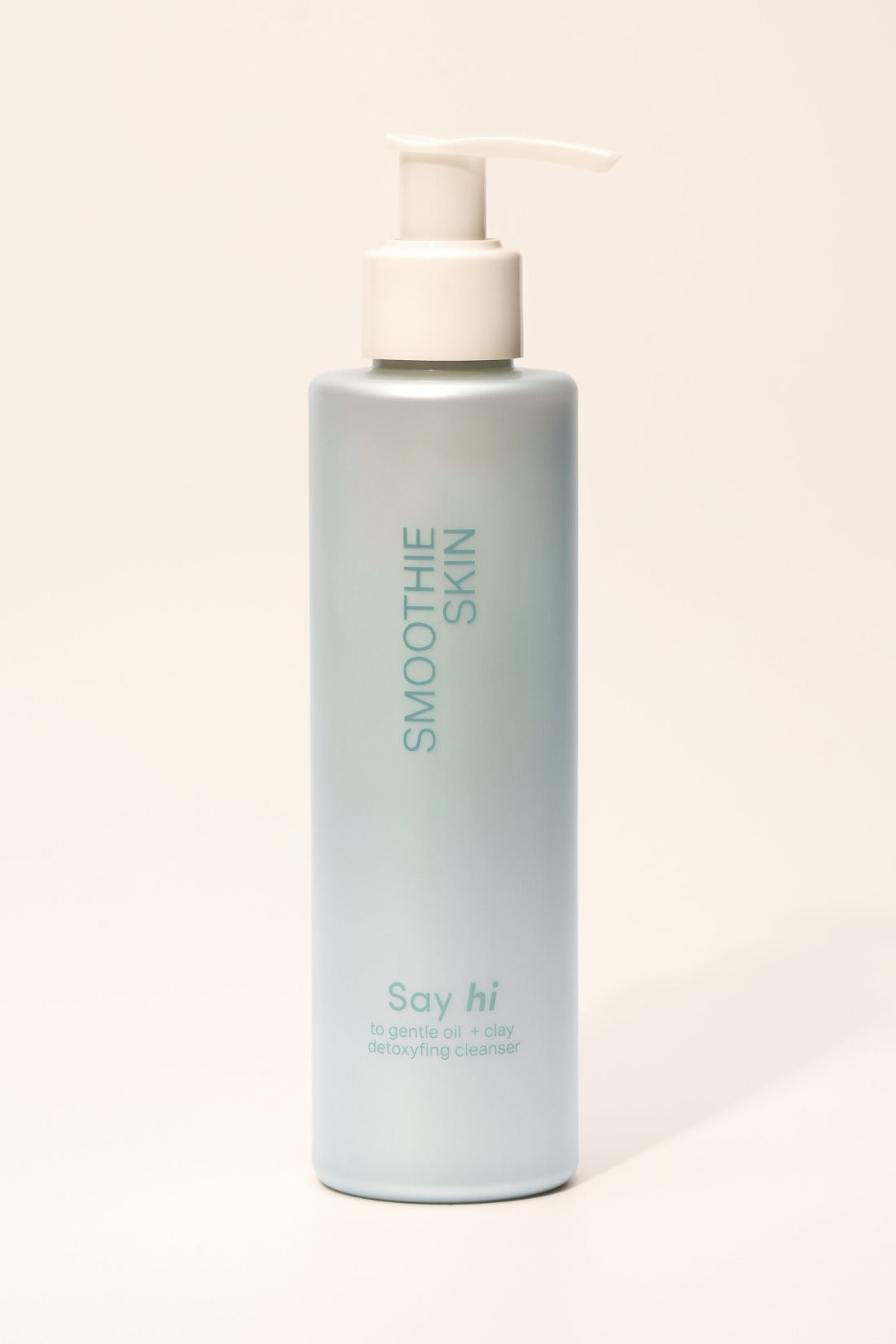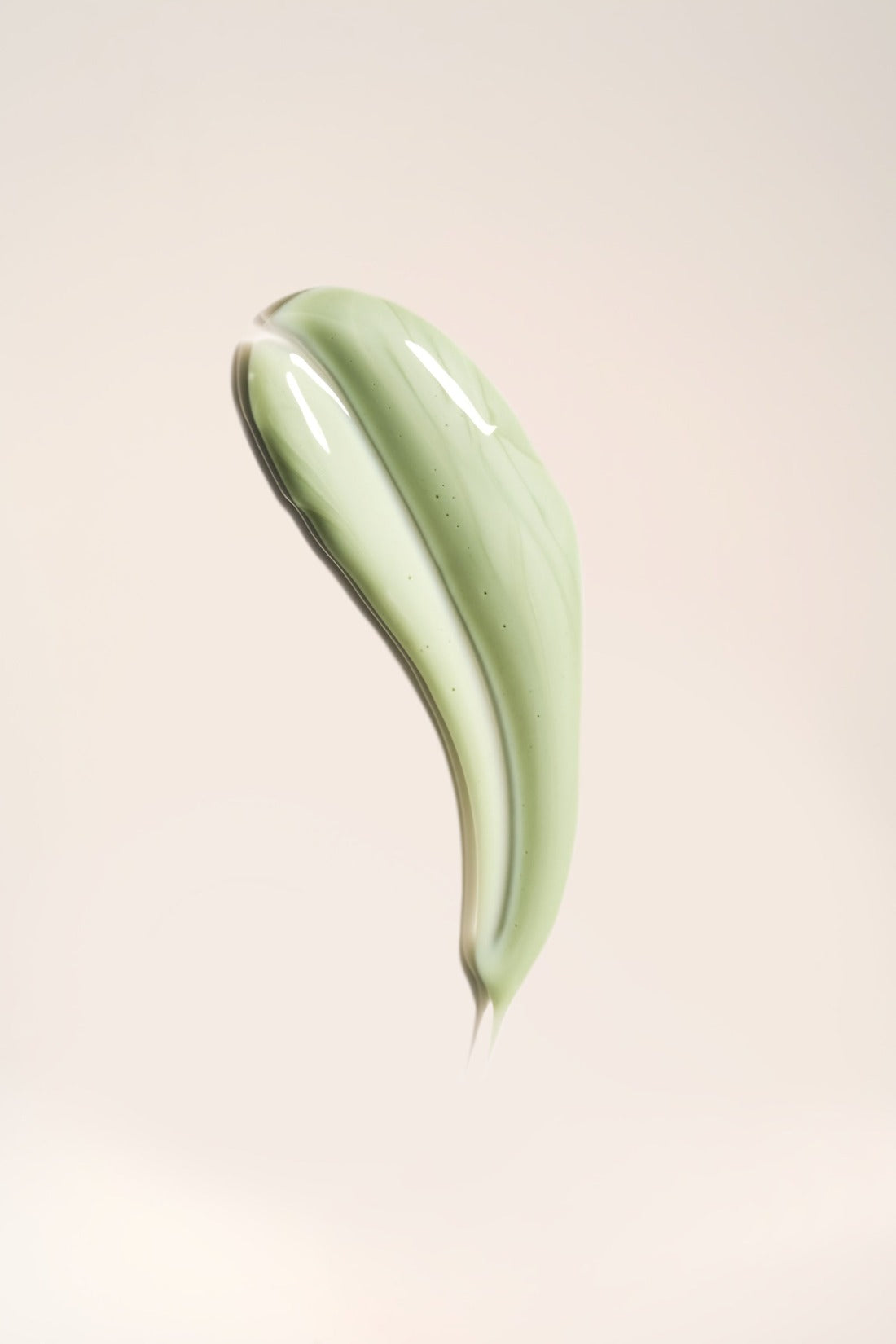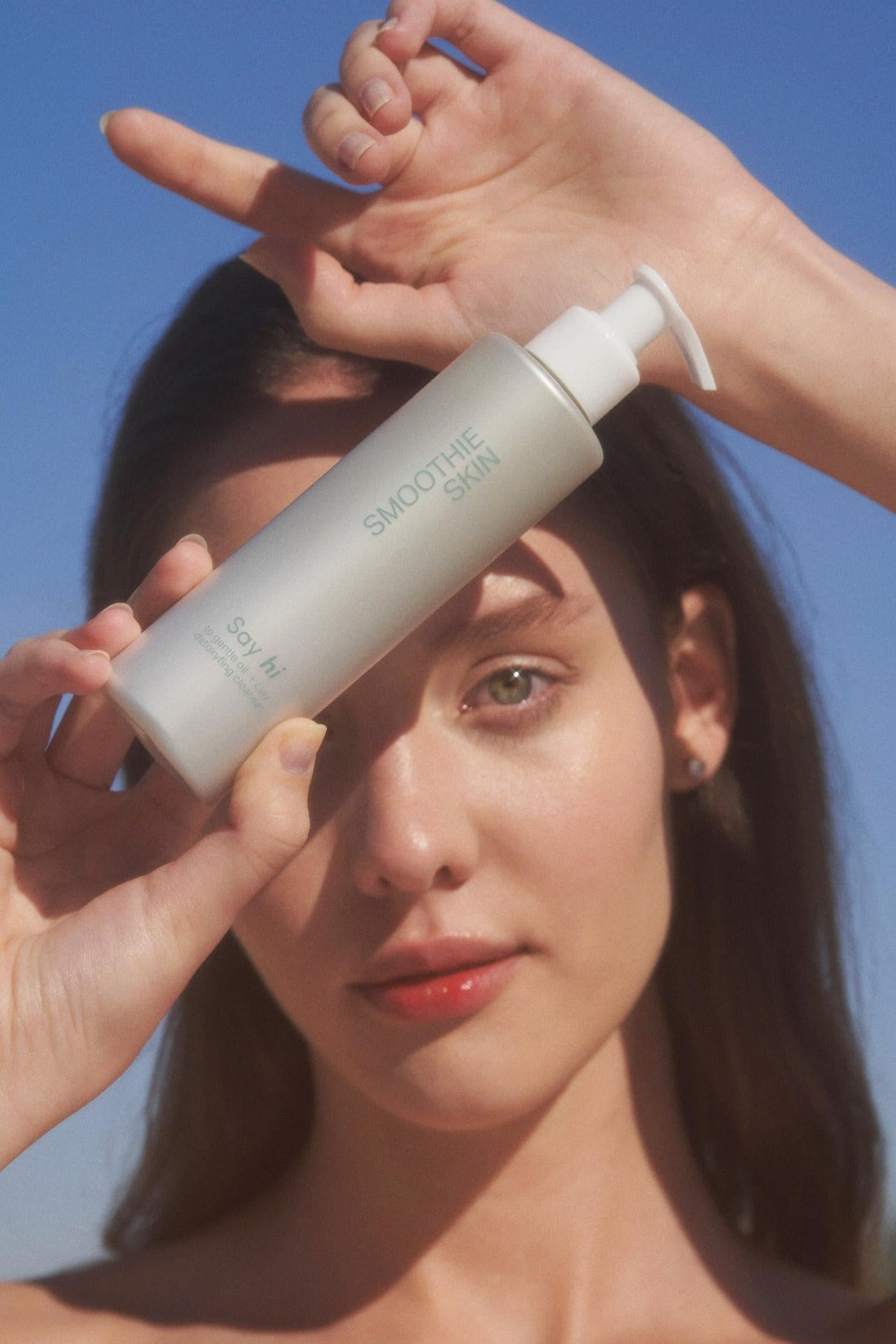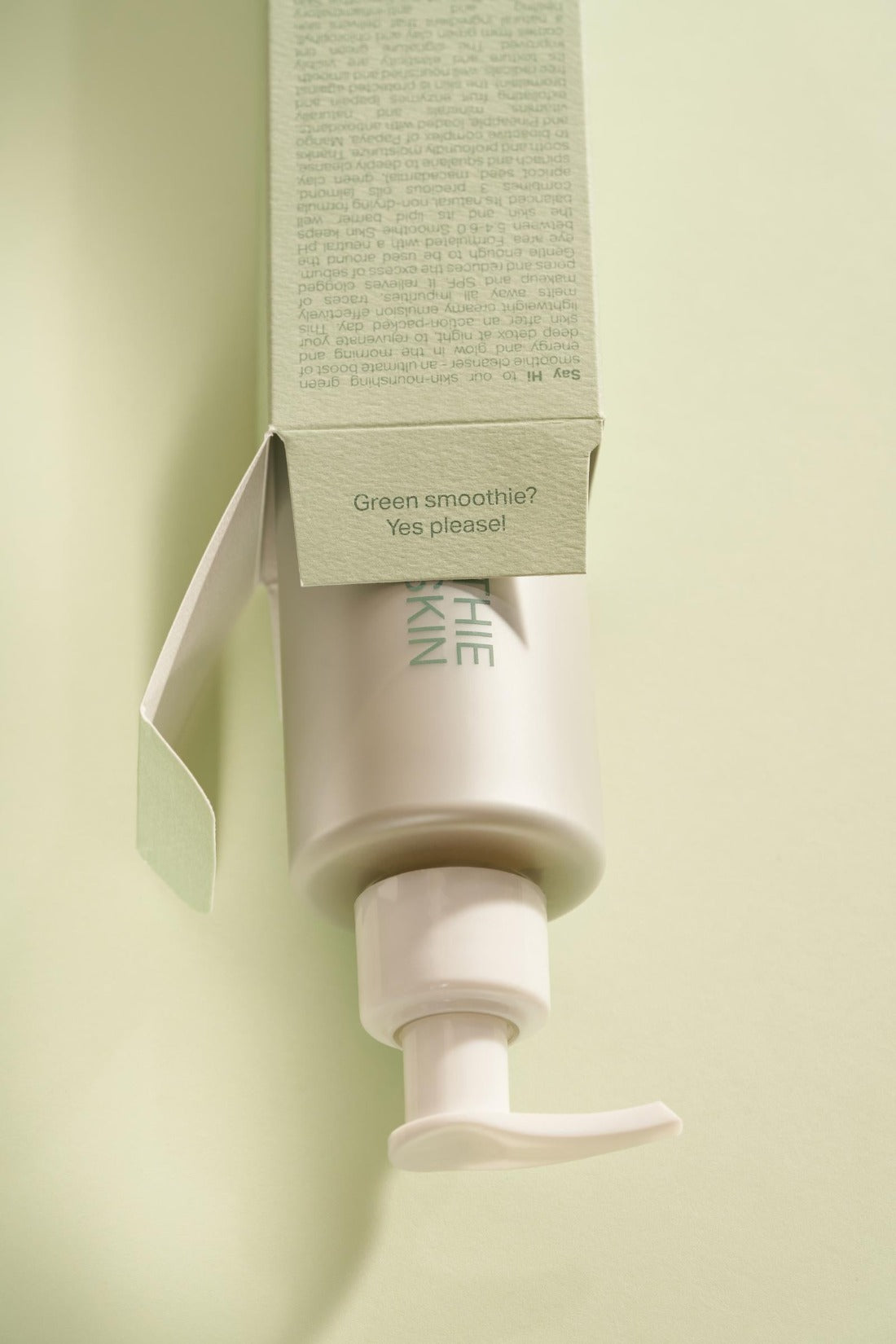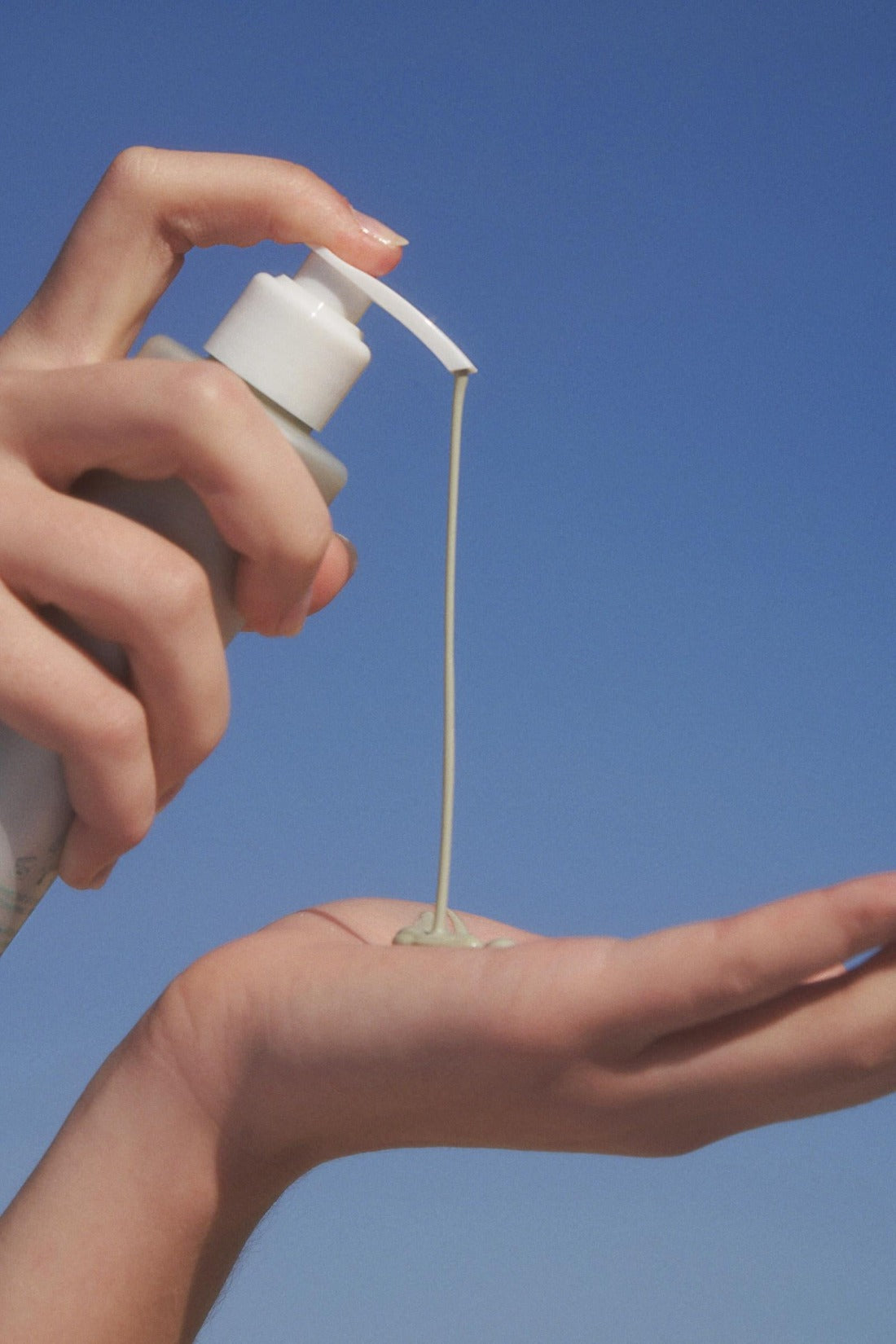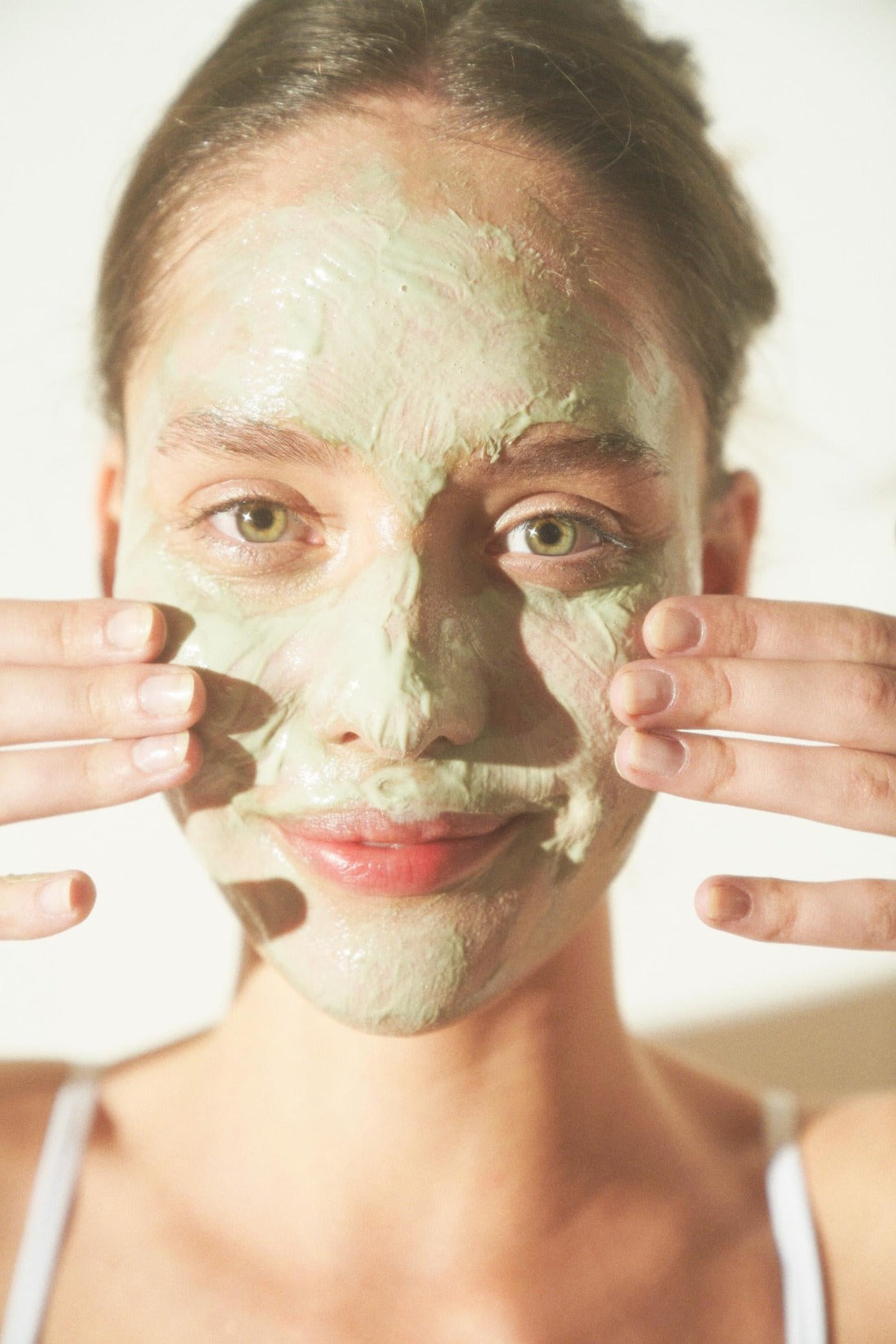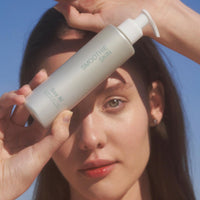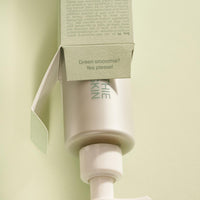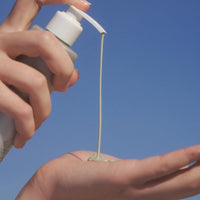 SMOOTHIE SKIN gentle oil + clay detoxifying cleanser
79,00 zł
Value Set

• Save
Smoothie Skin 200 ml

Benefits: our cleansing and nourishing emulsion is like a green smoothie for your skin – an extra booster of energy & glow in the morning, and deep detox at night after an action-packed day. Its unique, oil + clay formula efficiently melts away all impurities, removes makeup (including eyes) and SPF. It unblocks clogged pores and reduces excess of sebum without stripping and drying out your skin. Gentle pH-balanced (5.4-6) cleanser deeply moisturizes and nourishes the skin to keep its barrier in excellent condition.
Who is it for? Friendly for all skin types, including sensitive, allergic and acne prone skin. Non-comedogenic - doesn't clog pores. Pregnancy safe.
Formula: vegan & 97% natural. Superpowered by restorative blend of 3 precious oils (macadamia nuts, sweet almonds, and apricot seeds), green clay, spinach extract and squalane to instantly purify, detoxify and hydrate your skin. The bioactive complex of 3 tropical fruits: papaya, mango and pineapple is full of nutritious vitamins, minerals and gently exfoliating fruit enzymes (papain & bromelain). It has antioxidant properties and improves skin smoothness and elasticity. Formulated without harsh surfactants and artificial dyes.
Texture: green, velvety emulsion that turns into milky veil after a gentle face massage to deeply cleanse and nourish the skin.
Color: the unique hue of Smoothie Skin is 100% natural and derives from green clay and chlorophyll, vegetal ingredient known for its calming and anti-inflammatory properties.
TIP: to nourish your skin from inside, add liquid chlorophyll to your morning drinks.
Green energy cocktail for your skin? Yes please!
Smoothie Skin is a multi-tasking hero: efficient cleanser for a daily use + powerful detox mask.Use AM & PM to cleanse the entire face and neck. Shake before use.Apply 1-2 pumps to a dry skin and massage in circular motions for 60 seconds. Rinse with water and pat dry. Finish the ritual with Blue Balance, Aqua Resort or Bright Vibes to enjoy vacay skin all year long.Whenever you feel like you need a powerful cleansing & detox for your skin, leave the emulsion for 10 minutes like a mask and then rinse off.Note: Because chlorophyll is a vegetal ingredient, the color intensity may vary from batch to batch and over time. This variation in no way affects product's effectiveness so you can enjoy the benefits of your 97% natural cleanser! Store away from direct sunlight.
Smoothie Skin results confirmed by consumer study*:INSTANTLY AFTER THE APPLICATION95% respondents declare that Smoothie Skin:- deeply removes all skin impurities, including SPF.- has a gentle formula that does not irritate the skin, including the eye area.- provides an instant feeling of moisturized and nourished skin, without tightness.- absorbs excess of sebum and prevents the skin from excessive shining. Applied on the face for 5-10 minutes, provides a deep detox.100% respondents declare that Smoothie Skin is easy to apply and rinse off, has a nice velvety texture. Immediately after the application skin is calm, smooth, and pleasantly soft.AFTER 4 WEEKS100% respondents declare that Smoothie Skin: doesn't dry out the skin, even when used everyday, soothes irritations and restores radiance to reveal healthy and glowing skin.95% respondents declare that Smoothie Skin regulates sebum production in the long term, reduces the visibility of enlarged pores and prevents imperfections.
*Based on a study conducted on 20 women aged 18-65 with all skin types for 4 weeks controlled by dermatologist.
Green clay Illite - perfectly cleanses and detoxifies the skin. Absorbs impurities and unblocks clogged pores. Due to its anti-inflammatory and antibacterial properties, it regulates sebum production and prevents new imperfections from appearing.
Our blend of 3 precious oils:
Macadamia nuts oil cruelty free and vegan source of essential fatty acids and Squalane to deeply regenerate and nourish the skin. Effectively reduces inflammation, rash, itchiness and eczema. Perfect for sensitive skin.
Sweet almonds oil deeply moisturizes, regenerates and rebuilds the structure of a dry, sensitive and irritated skin. Acts as a natural emollient, providing a protective umbrella against water loss.
Apricot kernel oil helps to improve skin tone, maintain softness and radiance of the skin. It also nourishes the skin and lowers the appearance of wrinkles, fine lines and blemishes (that's the Vitamin C and E working together).
Bioactive complex of Papaya, Mango and Pineapple - rich in powerful antioxidants such as vitamins A, B & C, it nourishes, moisturizes and reduces irritation and redness of the skin. 2 natural enzymes Papain and Bromelain have gentle exfoliating properties to smooth and brighten the skin. It quickly restores its elasticity and healthy glow.
Chlorophyll - a green pigment found in plants and algae. A powerful antioxidant (vitamins A, C, E, and K) with both anti-inflammatory and anti-bacterial properties. It helps to reveal more radiant, clear, rejuvenated, and youthful skin. It can visibly reduce the appearance of dark spots, fine lines, and wrinkles, which are often the result of a sun damage.
Squalane - emollient that mimics skin's natural oils. Deeply hydrates and prevents moisture loss. Restores skin's firmness, radiance and balance. Protects against bacteria, UV and free radicals. In all Say Hi products, we use the highest quality squalane obtained and fermented from Brazilian sugar cane.
Spinach extract - contains vitamins and flavonoids that slow down the aging process and protect against the harmful effects of UVA radiation. Ensures proper maintenance of moisture in the epidermis.
Full ingredients list INCI: Aqua, Illite, Glyceryl Stearate, Prunus Amygdalus Dulcis Oil, Olus Oil, Macadamia Ternifolia Seed Oil, Prunus Armeniaca Kernel Oil, Pentylene Glycol, Caprylyl/Capryl Glucoside, Sodium Cocoamphoacetate, Glycerin, Tripelargonin, Ascorbyl Palmitate, Ananas Sativus Fruit Extract, Carica Papaya Fruit Extract, Mangifera Indica Fruit Extract, Spinacia Oleracea Leaf Extract, Allantoin, Squalane, Tocopherol, Coco Caprylate/Caprate, Glyceryl Oleate, Lecithin, C15-19 Alkane, Potassium Cetyl Phosphate, Maltodextrin, Acacia Senegal Gum, Xanthan Gum, Lactic Acid, Citric Acid, Hydroxyacetophenone, Potassium Sorbate, Sodium Benzoate, Parfum, CI 75810.
Smoothie Skin cleanser is available in a light, plastic bottle with a pump and can be recycled.
Its secondary packaging (outer box) is made of FSC (Forest Stewardship Council) certificated paper, which signifies that the production of this fully recyclable paper product originated from a forest that was managed carefully with trees, animals, and local community benefit at heart. Boxes are not coated with a laminated layer not to compromise biodegradability and recyclability. Also, they are not wrapped in a foil to minimize the amount of generated plastic.
Recycling is important and we encourage you to do it in few simple steps:
1. After unboxing, fold the outer box and throw it in a paper container.
2. Once you finish your Smoothie Skin, remove the pump and throw it in a general waste container.
3. Remove any residue from the bottle and throw it in a plastic container. You don't need to wash it.
Everything we do for our planet matters. We count on you!
THE POWER OF ACTIVE INGREDIENTS
SMOOTHIE SKIN
Vegan and 97% natural formula is based on a precious blend of 3 regenerating oils: macadamia nuts, sweet almonds and apricot kernel oil, green clay, spinach, and squalane to instantly cleanse, detoxify, nourish and hydrate the skin. Bioactive complex of papaya, mango and pineapple has antioxidant properties and improves skin's smoothness and elasticity. 100% natural green color of our cleanser derives from chlorophyll and green clay.
ACTIVE
INGREDIENTS
green clay Illite
spinach + chlorophyll
3 precious oils: macadamia nuts
apricot kernel, sweet almonds
papaya, mango, pineapple

DISCOVER GREEN
SMOOTHIE
gentle cleansing
deep detox
nourishment + hydration
antioxidation
without drying out pH 5.4-6
MULTI-TASKING SMOOTHIE SKIN
APPLICATION
GENTLE CLEANSING: FACE, NECK & EYES
Apply 1 to 2 pumps into dry skin. Massage the entire face and neck for 60 seconds. Delicate formula is also suitable for eye makeup removal.
DETOX MASK
For an intense detox and extra smoothing effect, leave emulsion on the face like a mask for 10 minutes.
GREEN SMOOTHIE? YES, PLEASE
In the meantime, you can prepare your favorite smoothie! Add liquid chlorophyll to your drinks to boost your skin also from the inside.