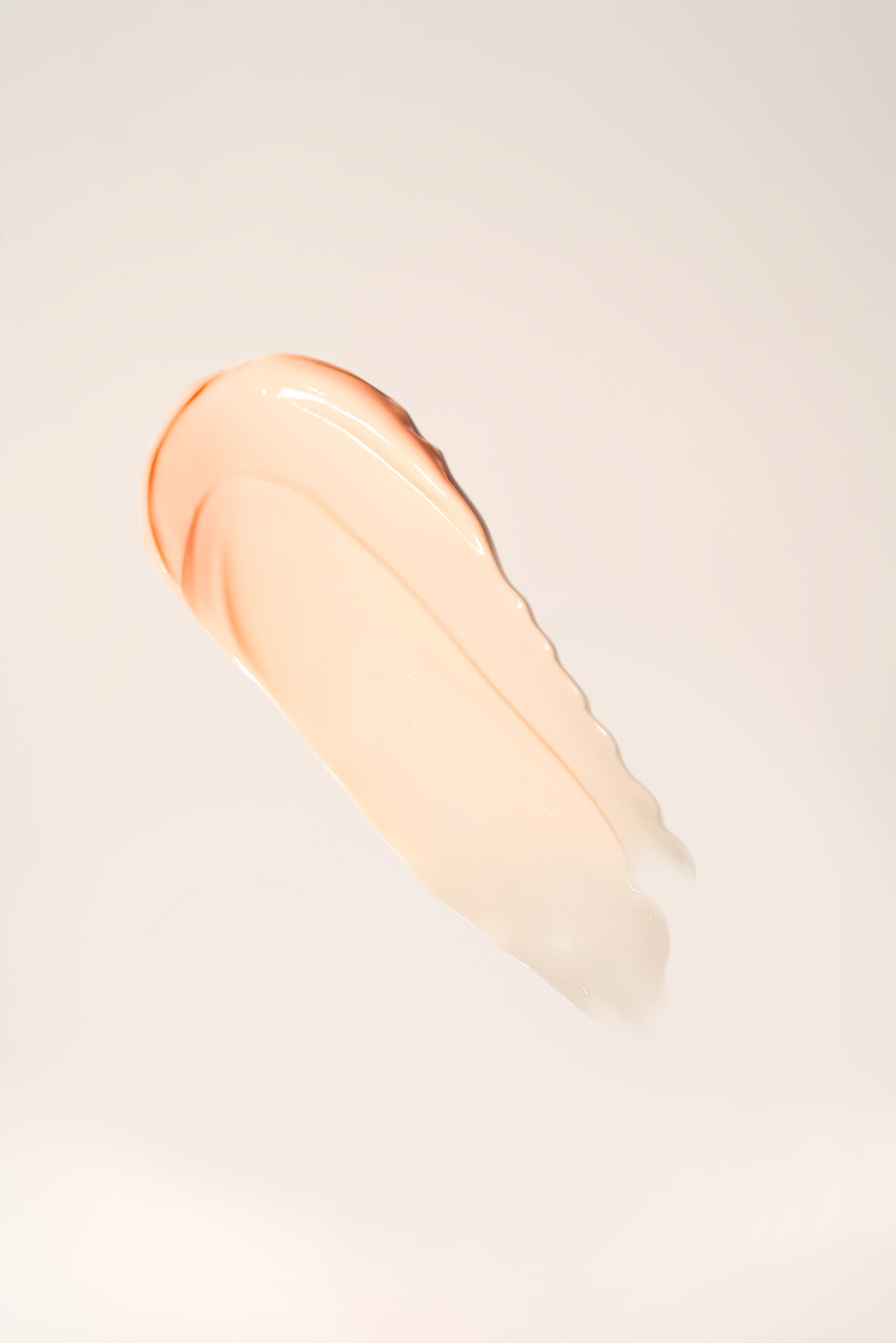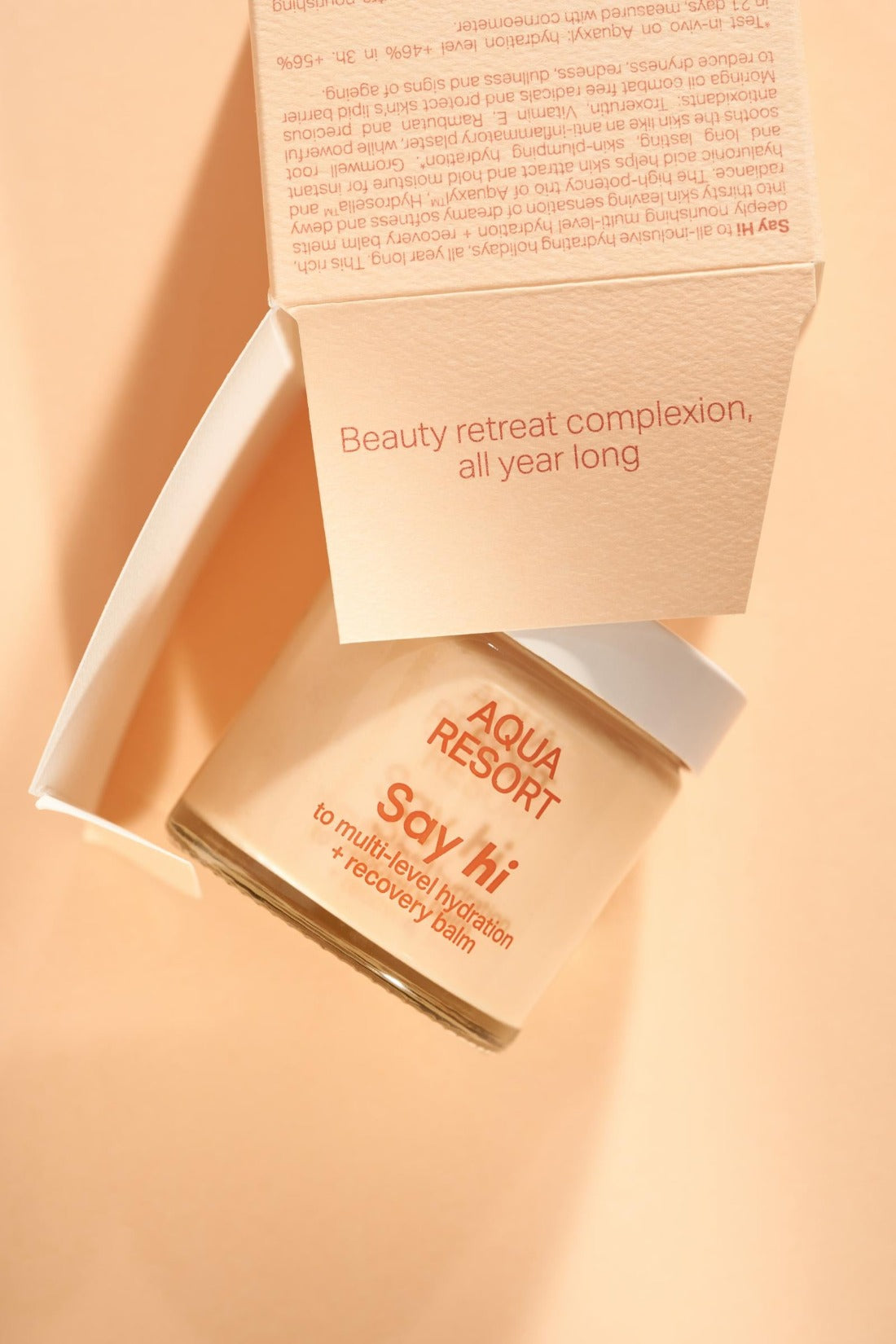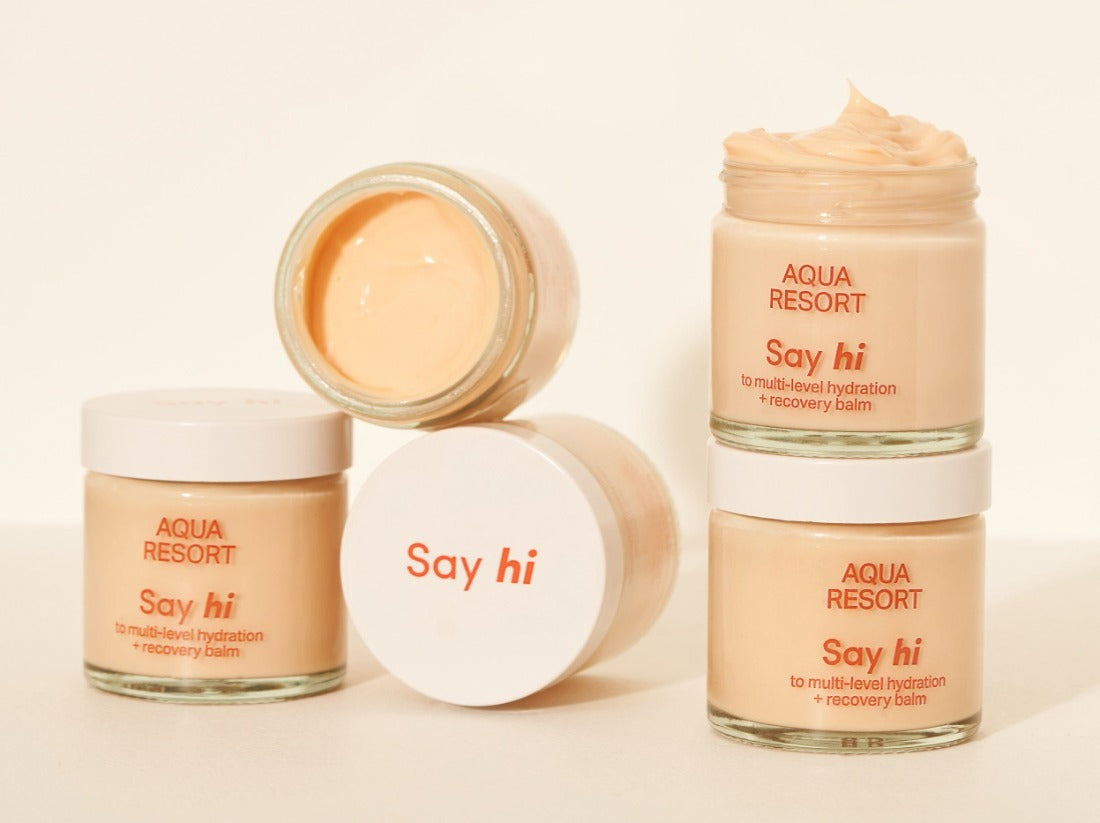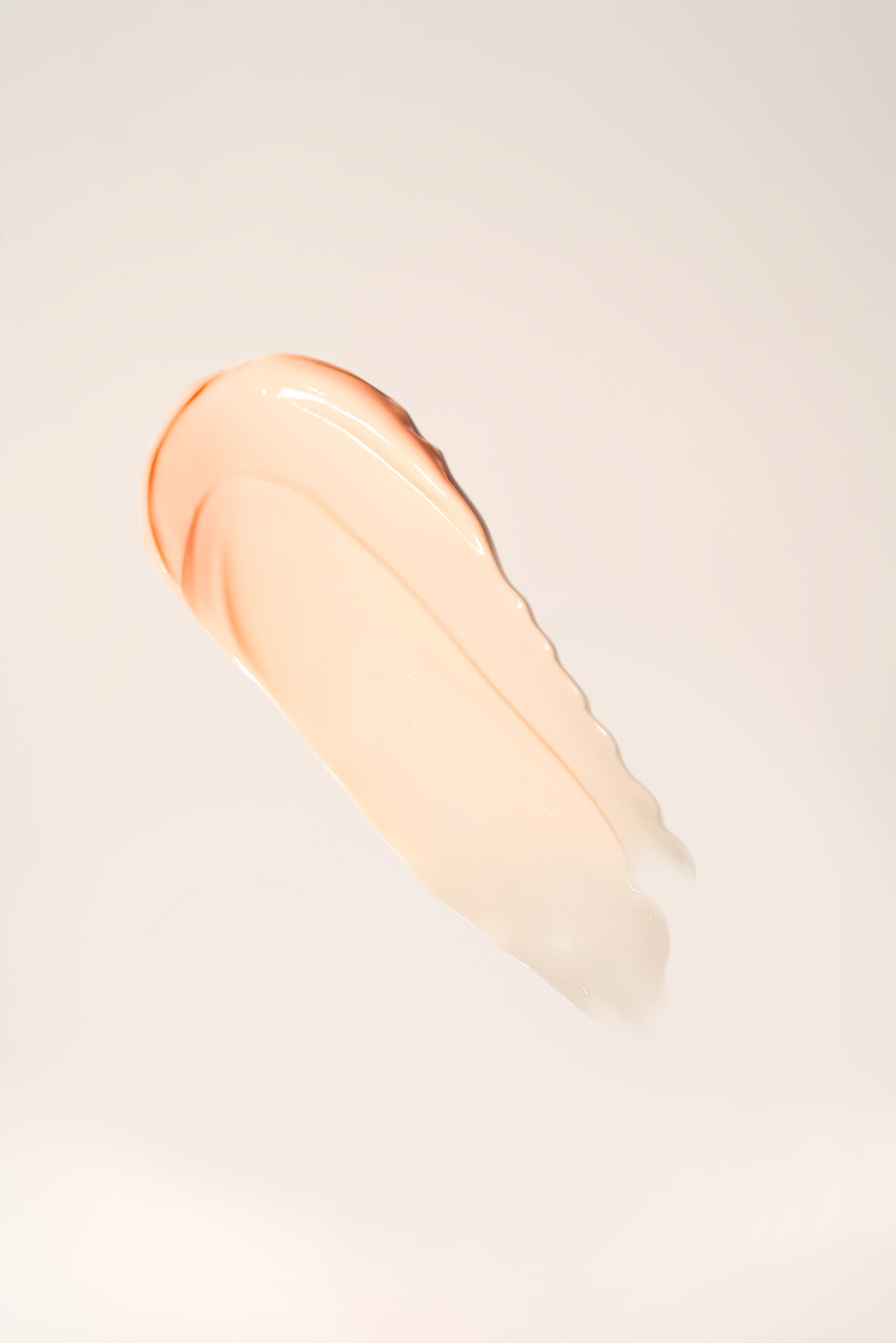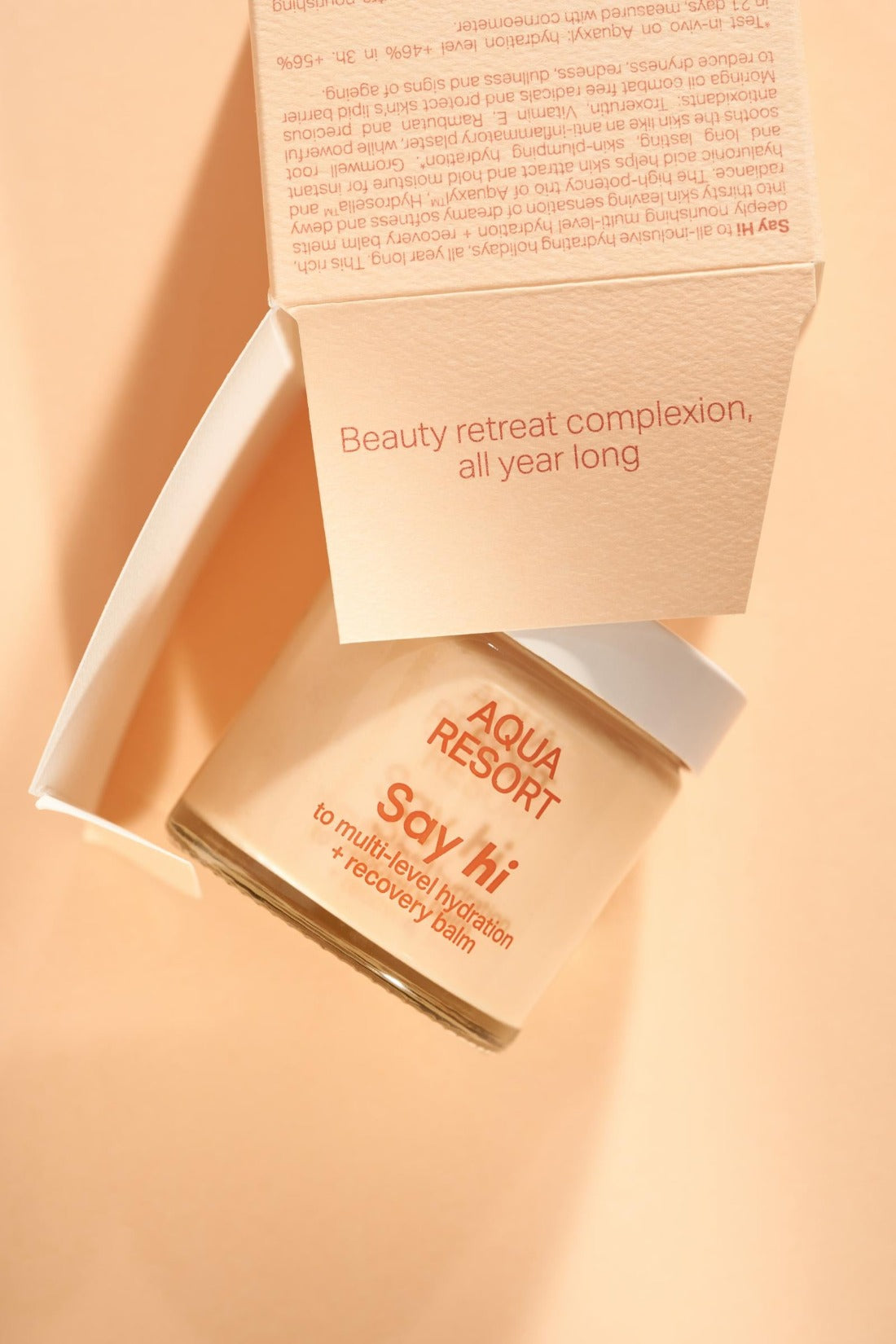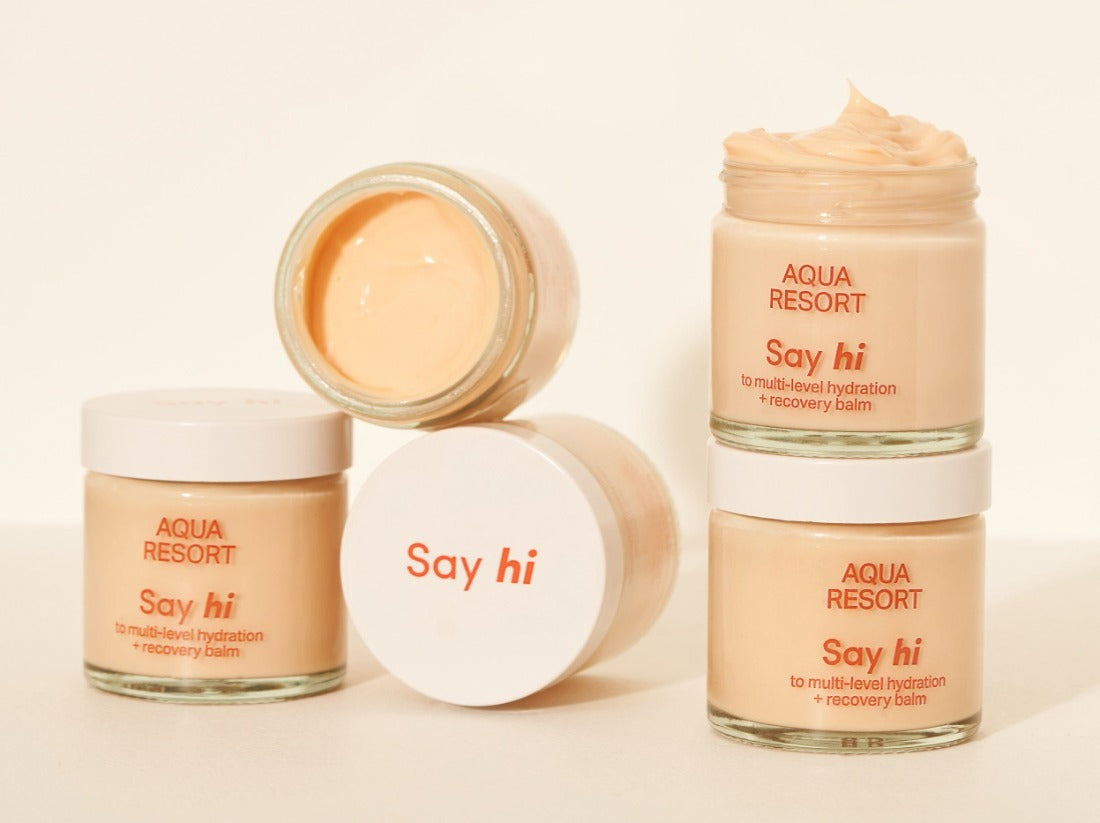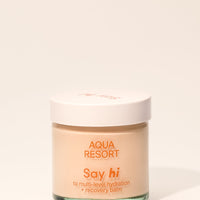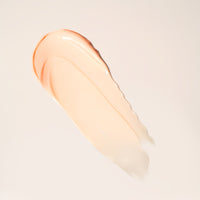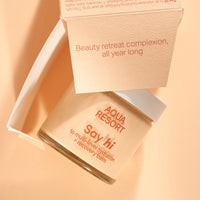 AQUA RESORT multi-level hydration + recovery balm
99,00 zł
Value Set

• Save
Aqua Resort 50 ml
Benefits: All-inclusive hydrating holidays for your skin, all year long. This rich, deeply nourishing, multi-level hydration + recovery balm melts into thirsty skin leaving an instant sensation of dreamy softness and dewy radiance. Dose after dose, the concentrated formula helps to combat dryness, sooths the skin and repairs its barrier to reduce irritations and skin's reactivity to external factors. Say Hi to relaxed, perfectly moisturized and plumped skin.
Who is it for? Friendly for all skin types craving for intense hydration, nourishment and regeneration. Best for dry, dehydrated and sensitive skin. Can be also used as an eye cream or powerful night and winter moisturizer for combination and oily skin. Non-comedogenic (won't clog pores) and pregnancy safe.
Formula: vegan and 98% natural. The high-potency trio: Aquaxyl™ (plant-derived sugars), Hydrosella™ (wild Australian hibiscus) and hyaluronic acid helps skin attract and hold moisture for instant and long-lasting, skin-plumping hydration. Gromwell root soothes skin like an anti-inflammatory plaster and rambutan supports the natural production of ceramides. Packed with antioxidants: troxerutin, vitamin E and precious moringa oil, Aqua Resort combat free radicals and protect skin barrier to reduce dryness, redness, dullness and signs of ageing.
*Test in-vivo Aquaxyl™: hydration level +46% in 3 hours after the application. + 56% in 21 days, measured with corneometer.
Texture: ultra-rich soothing balm with dewy effect. Absorbs quickly, perfect before makeup.
Color: unique apricot color is 100% natural and derives from gromwell root extract, wild Australian hibiscus and carrot oil.
Apply AM & PM on freshly cleansed face and neck or whenever you need an extra nourishment and protection.
Multi-tasking: our balm works miracles also as an eye cream or powerful night and winter moisturizer for mixed and oily skin.
Remember to keep it out of direct sunlight.
Aqua Resort efficacy confirmed by consumer study*:
INSTANTLY AFTER APPLICATION100% surveyed declares that Aqua Resort:- instantly reduces skin roughness. Skin is soothed and baby-soft right after the application.- absorbs quickly and skin is perfectly prepared for makeup.
AFTER 4 WEEKS100% surveyed declares that Aqua Resort:- prevents skin dryness and provides long-lasting and multi-level hydration.95% surveyed declares that Aqua Resort:- perfectly moisturize the skin. It becomes more firm, supple and smooth.- leaves the feeling of intense nourishment. Skin recovers its natural glow.- reduces the appearance of fine lines and skin redness.
* Based on perception study conducted on 20 women aged 18-65 with dry and sensitive skin for 4 weeks controlled by dermatologist.
Aquaxyl™ - plant-derived moisturizing sugars. Control water circulation throughout all skin layers and boost synthesis of hyaluronic acid. Powerful "anti-dehydration shield" - the skin barrier is reinforced in 24 hours by limiting water loss. ECOCERT certified ingredient. *Test in-vivo Aquaxyl™: skin hydration level increased by +46% in 3h after single application. +56% after 21 days, measured with corneometer.
Hydrosella™ - wild hibiscus organic extract. Grown on Australian desert due to high drought tolerance, contains naturally high concentration of betaine. Provides an immediate moisturizing effect for up to 72h after single application and prevents long-term dryness of the skin. Increases the number of neutral lipids and the strength of stratum corneum layer.
Nephydrat™ - rambutan peels organic extract. Hydro-energizer that rescues dry skin and preserves it from dehydration. Skin cells are re-energized to enhance natural production of ceramides, lock moisture, support regeneration of skin barrier, and protect against environmental stressors. Ethically sourced, ECOCERT certified ingredient.
Gromwell root extract – used for many years in China and Japan as an herbal medicine for its great antibacterial, anti-inflammatory and antioxidant properties. It deeply sooths and regenerates sensitive, prone to redness skin.
Troxerutin - an active ingredient (flavonoid) extracted from Sophora japonica buds that prevents blood and lymphatic capillaries from breaking. As a powerful antioxidant with anti-ageing and anti-inflammatory properties, it has a calming effect on sensitive skin with overactive blood vessels, redness and rosacea.
Moringa seed oil – all-around wonder oil, natural emollient rich in omega fatty acids and antioxidants. Famous for its deeply moisturizing and nourishing properties, it soothes inflammations, reduces fine lines and wrinkles and improves the overall appearance of the skin. This jack-of-all-trades oil brings an instant relief for a dry, dehydrated and rough skin.
Additional active ingredients that will deeply moisturize and regenerate your skin: hyaluronic acid, sweet almonds oil, carrot oil, alantoin, Shea butter, and vitamin E.
Full ingredients list INCI: Aqua, Glycerin, Cetearyl Alcohol, Isoamyl Laurate, Caprylic/Capric Triglyceride, Glyceryl Stearate Citrate, Soybean Glycerides, Tripelargonin, Prunus Amygdalus Dulcis Oil, Arachidyl Alcohol, Butyrospermum Parkii Butter, Pentylene Glycol, Xylitylglucoside, Butyrospermum Parkii Butter Unsaponifiables, Anhydroxylitol, Shea Butter Ethyl Esters, Hibiscus Sabdariffa Fruit Extract, Lithospermum Erythrorhizon Root Extract, Nephelium Lappaceum Peel Extract, Daucus Carota Sativa Root Extract, Daucus Carota Sativa Seed Oil, Troxerutin, Moringa Oil/ Hydrogenated Moringa Oil Esters, Moringa Oleifera Seed Oil, Beta-Carotene, Sodium Hyaluronate, Ascorbyl Palmitate, Allantoin, Tocopherol, Tocopheryl Acetate, Caprylyl Glycol, Glyceryl Caprylate, Erythritol, Helianthus Annuus Seed Oil, Olus Oil, Xylitol, Jojoba Esters, Arachidyl Glucoside, Behenyl Alcohol, Xanthan Gum, Citric Acid, Hydroxyacetophenone, 1,2-Hexanediol, Parfum.
Aqua Resort is available in a jar made of fully recyclable, transparent glass.
Its secondary packaging (outer box) is made of FSC (Forest Stewardship Council) certificated paper, which signifies that the production of this fully recyclable paper product originated from a forest that was managed carefully with trees, animals, and local community benefit at heart. Boxes are not coated with a laminated layer not to compromise biodegradability and recyclability. Also, they are not wrapped in a foil to minimize the amount of generated plastic.
Recycling is important and we encourage you to do it in few simple steps:
1. After unboxing, fold the paper insert and outer box and throw them in a paper container.
2. Once you finish your Aqua Resort, remove the cap and throw it in a general waste container.
3. Remove any excess from the jar and throw it in a glass container. You don't need to wash it.
Everything we do for our planet matters. We count on you!
TIP: You can give a second life to our jars and create original decorations for tealights or cute pots for mini cacti. Show your ideas on your Instagram with #sayhiandreuse, we will surely share it.
THE POWER OF ACTIVE INGREDIENTS
AQUA RESORT
Vegan and 98% natural formula is based on high-potency moisturizing trio: Aquaxyl™, Hydrosella™ and hyaluronic acid powered by powerful plant extracts. Gromwell root soothes the skin like an anti-inflammatory plaster and Rambutan enhances natural production of ceramides. Antioxidants: Troxerutin, Vitamin E and precious Moringa oil combat free radicals and protect skin barrier to reduce dryness, redness, dullness and signs of ageing.
ALL-INCLUSIVE
HYDRATION
multi-level moisturizing
rich nourishment
deep regeneration
plump skin
ACTIVE
INGREDIENTS
Aquaxyl™ + Hydrosella™
gromwell root extract
rambutan extract
moringa oil
MULTI-TASKING AQUA RESORT
APPLICATION
APPLY A SMALL AMOUNT OF BALM
on freshly cleansed face and neck. Aqua Resort is very efficient, perfectly melts into skin and absorbs quickly. Perfect to prep skin before make-up.
USE WHENEVER YOU NEED
an extra hydration and nourishment. AM & PM. Great for eye area and dehydrated parts of the body. Powerful night & winter moisturizer for mixed and oily skin.
ENJOY ALL-INCLUSIVE HYDRATION
all year long! Say Hi to summer vibes again and get this feeling of deeply hydrated, plumped and naturally luminous skin.